Hey guys, it's freezing here in Pittsburgh again! 11 degrees, feeling like -3 with the windchill. It's also snowing a bit here today…mostly flurries, but maybe about an inch or two throughout the day.
Today I'm off from my full time job, but working at my part-time job at McCandless EMS. I have a 16 hour shift today, 7:00AM-11:00PM. The one thing about working EMS that is definitely hard is the weather. Generally speaking, we're the ones on scenes at accidents in the cold, in the snow, and in the rain. We have had one call today so far and that was for an MVA on the interstate, but we were cancelled quickly after we arrived on scene.
The nice thing about working in EMS (emergency medical service…aka pre-hospital…aka ambulance) vs. Emergency Department is that generally you're only as busy as the number of calls that you have in a day. In the ER, you're constantly on the go, and have very few breaks. Working EMS allows for some down time for me, and it's a fun and different way to still be working in the medicine field.
– – – – –
This weekend is my 26th (cringe) birthday, Saturday to be specific. We have plans tomorrow night to celebrate with friends at my sister's house, as her birthday is on Monday. We're only a year and three days apart.
I never really get super excited about birthday's, and I'm not sure why. I feel like they're an important part of everyone's year, but having a January birthday is depressing.
Mike is excited about the gift he got me and the only clues I got were that the gift is from Target and they don't have it in stores. I gave my sister some guidance for a new Vera Bradley in Sun Valley.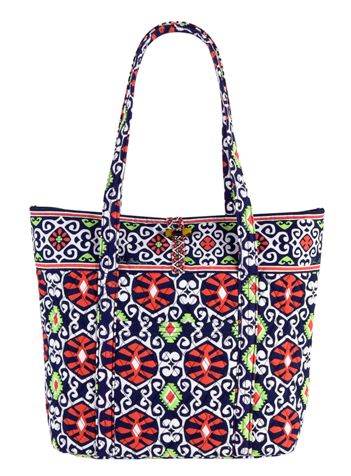 I have a really old Vera from probably 6 years ago that I currently use for work and it's getting beat up. This seems to be the only bag that really fits all of my work stuff (aka: iPad, coffee, water bottle, stethoscope, medication reference book, pens, wallet, and other random stuff) really well. I have been debating buying one for myself for years, but can't justify paying that much. So I asked for one for my birthday!
– – – – –
Today I took off from the gym for two reasons:
1. I woke up at 5:45AM to get ready for work.
2. I am still sore from Crossfit.
I knew I would be sore today more than yesterday and I can really feel all of those pull ups I did a few days ago in my lats and my pecs. I rubbed Icy Hot essentially all over my upper body before bed last night and it was heaven. I love the smell of Icy Hot and the way it makes my aching muscles feel. If you haven't tried it…please do.
I plan on doing a workout at my gym tomorrow before a short 5 hour shift in the ED, since the next Intro to Crossfit class is Saturday. I'm still searching Pinterest and the internet for the workout I want to do. The wonderful thing this morning however was that when I went to put on Mike's work pants (we share pants because we both work in EMS and I refuse to go buy new pants when we have 5 pairs of perfectly good ones to share) and they were really loose and actually more comfortable to wear throughout the day! It's the small victories.
Stay warm guys!